Roses
A prized gift, roses are considered by many to be a flower of high value. Rose gardens can add tremendous beauty and a wonderful fragrance to your yard.
This section of tips includes ideas for growing roses in pots along with information about planting and growing rose bushes.
Tips, Tricks, and Answers
The following articles are available for the 'Roses' topic. Click the article''s title (shown in bold) to see the associated article.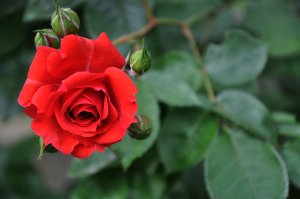 Caring for Potted Rose Plants
There are a variety of reasons that people choose to place their rose plants into pots or other kinds of containers. Whether this reasoning lies in trying to give your rose bushes a head start or you are simply adding a little bit of decoration to your home or office, caring for potted rose plants will be the same. Here is all the information you need to know in order to allow you to care for potted rose plants.
Caring for Potted Roses
Just about everyone loves roses, and with the use of pots roses can be enjoyed just about everywhere. Caring for potted roses presents a few unique problems, though these are easily taken care of with a little proper planning. Here's how.
Caring for Roses
Roses have developed a reputation for being finicky. Roses are no more particular than other plants. They simply require a bit more of your attention. Caring for roses does not have to be difficult if you follow a few simple principles.
Choosing the Right Rose Bushes
Most people agree that the rose is the most beautiful flower in the garden. They certainly look beautiful in catalogs, but you might not have success growing roses if you don't choose the right rose bushes for your yard and your lifestyle.
Fragrant Rose Bushes
Roses are beautiful flowers, but they do demand a bit more care than most flowers that you plant in the ground. You'll need to plant your roses where they will have plenty of sunlight as well as drainage for when you water them—which you'll have to do regularly. You'll likely want to use a special rose fertilizer to keep your roses well nourished.
Landscaping with Roses
There are many people who will say that landscaping with roses is a vital necessity in order to create the ultimate look. Luckily, landscaping with roses is pretty easy to do. Simply follow these simple guidelines, and you will have not only the perfect roses, but the best possible landscape.
Planting a Rose Arbor
Roses are a wonderful addition to just about any home, as are arbors. While these two things are great alone, combining the two of them are even better. However, there is a trick to planting a rose arbor.
Planting Roses
Without a doubt, roses are one of the all time favorite plants of gardeners everywhere. This is due to how beautiful the plant is, as well as how relatively easy roses are to care for. The question that many people have though is what they need to know about planting roses. Well, if you have ever wondered about this, your answer is here.
Understanding Rose Classifications
It goes without saying that roses are perhaps one of the most popular plant choices among gardeners around the world. To truly know what your options are, you need to try understanding rose classifications are. There is a bit of a problem with this though.
Using Roses in Landscaping
Roses are perhaps one of the most beloved, and improperly used, flowers around. There are all kinds of methods for using roses in landscaping, and if not used properly can actually detract from the intended effect. If you are thinking of using some roses in your landscaping design, then be sure that you understand at least the basics.