Cleaning
At some point each year, you'll want to clean elements of your garden. Some important parts of your outside garden include your lawn furniture and other decorations throughout your yard. Wind, rain, and other things cause everything to become dingy and dirty.
In this section of tips you'll find ideas about how you can keep your outdoor furniture looking its best and how to dust and clean your indoor plants.
Tips, Tricks, and Answers
The following articles are available for the 'Cleaning' topic. Click the article''s title (shown in bold) to see the associated article.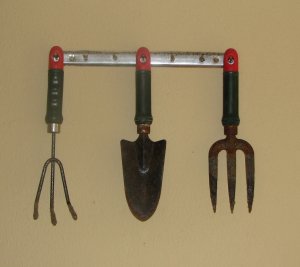 Clean Houseplant Leaves with Banana Skins
Houseplants can be very useful in decorating your home, but you must keep them looking good. Make sure to clean any dead leaves away from your plant. To keep your leaves shiny as well as dust free, wipe them down with banana peels.
Clean Your Lawn and Yard Furniture
Outdoor furniture can take just as much wear and tear from people as your indoor furniture does, plus it usually withstand dirt, rain, and all manner of other things. If you want an easy, cheap, and environmentally safe solution for cleaning your outdoor furniture, try baking soda and water. Simply wipe your furniture down with this solution to both clean and deodorize it.
Cleaning Your Concrete Patio
If the proper care is taken, a patio can help set the tone for your back yard perfectly, particularly if you have a concrete patio. Cleaning concrete patios may seem like something that is exceptionally easy to do; however, if the proper care isn't taken you can easily damage what you are trying to clean.
Hold Open Your Trash Bag when Sweeping Leaves
A simple TV tray stand can be a great help in holding open your garbage bags. Before you try to pick up large piles of leaves, weeds, or other garden clippings, simply prop open your garbage bag with a TV tray stand and sweep the mess in. You can make your yard cleanup process much shorter and easier, and you won't even need a dustpan.
Keep Dust Off of Your Houseplants
Dusting your houseplants can be a tedious chore. Instead of cleaning all of your houseplants yourself, recruit your children to help. Using a paintbrush instead of a rag to dust your plants can make plant dusting a fun game for children to play.
Proper Pruning
Proper pruning of a tree is more than just cutting off the branches. It can be just a bit intimidating. It doesn't have to be this way. Find out more about properly pruning your trees and bushes by reading this article.
Removing Iron Stains from a Vinyl Fence
Fences of all kinds love to attract stains, and vinyl fencing is no different. In fact, perhaps one of the most difficult types of stains to remove is iron stains. However, just because it is difficult doesn't mean that it is necessarily impossible. All you really need is a little perseverance and elbow grease, and you will be able to get he job done.
Yard Management
Everyone knows that first impressions are important, and nothing makes as much of a first impression as your yard. If you do not implement proper yard management techniques, you will quickly have an untidy and messy yard. It is the first thing that people see when they come to visit, so why not start their impression of your home off on the correct foot?