Flowers
Adding some color to your garden can be done easily by planting flowers. Whether you are planting an entire flower garden or just want to accent your yard with some color, you'll find some tips here that will help you plant the right flowers for your garden.
There are articles in this section about growing flowers in the shade, repotting your flowers, growing a cold-weather garden. If you prefer to garden in-doors, you'll find some information about creating flower arrangements and hanging flower pots.
Tips, Tricks, and Answers
The following articles are available for the 'Flowers' topic. Click the article''s title (shown in bold) to see the associated article.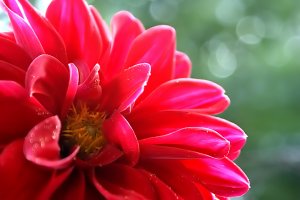 Artificially Pollinating Flowers
Not only does pollinating your flowers allow them to flourish and thrive, but also allow you to experiment and create new types of flowers. However, you cannot always count on natural pollinators to get the job done. That's when you have to begin artificially pollinating flowers. If you find yourself needing to do that, then here's what you do.
Attracting Hummingbirds
Like all birds, hummingbirds choose nesting materials from flower gardens, lawns, and foliage. Make sure that you not only place feeders full of nectar in your yard, but have an abundant amount of nesting material available to attract beautiful hummingbirds to your yard.
Attracting Hummingbirds to Your Garden
Whether you are looking to attract a little bit of extra beauty to your garden, or you are looking for help in propagating your plants, attracting hummingbirds to your garden can seriously help.
Beautiful Spring Flowers
If you want to grow gorgeous flowers in early spring, you'll need to start planting bulbs the fall before. Plant your bulbs with the pointy end up in an area that is well drained. Keep your plants warm in the winter with mulch or straw, and they will bloom when spring comes around.
Best Flowers for Shady Spots
Not all plants need lots of sunshine, so there are plants you can grow in shady parts of your yard as well. Perennials grow best in shade, and you can choose which flowers you grow depending on how much sunlight and shade the area gets. Particular plants may have special needs in the shade, so make sure to research the plants you decide to grow.
Caring for Oriental Lilies
Are you looking for a way to make your garden a little different from others that may be in your neighborhood? If you would like to have a lily that is a little more exotic than what most people see every day, you should try Oriental lilies. Caring for Oriental lilies is a little different than caring for other kinds of flowers though.
Choosing Sunflowers
Choosing sunflowers over other flowers is a wise choice, as this plant is very versatile. It is considered to be both a flower and a vegetable. Find out why this plant is loved by gardeners all around the world.
Choosing the Best Flower Garden Location
There is more to growing flowers than simply digging holes for seeds or plantings. Choosing the best flower garden location is crucial for optimal results.
Choosing the Right Flower Fertilizer
Flowers need different nutrients to grow, and not all of those nutrients will be found in your garden soil. You can either plant plants that only require the nutrients you have in your soil, or find a fertilizer that will replenish the nutrients not naturally found in your soil. A good mixed fertilizer will usually do the trick, but you can also test your soil to see what specific nutrients you need.
Choosing the Right Sized Flowerpot
Flowerpots are convenient because they are mobile, and they are also decorative. When choosing the right flowerpot, be careful to think of what will look nice in that area of your home. You also need to keep in mind the needs of the plant. Some plants like to have their roots all in one tiny area, while other plants like to have a wide space for their roots to grow.
Cold-Weather Flower Gardens
While many people think that you can only have a beautiful garden in summer, you truly can have a gorgeous winter garden as well. If you make sure to plant your flowers before the ground freezes, and you water them regularly, you should have no problem keeping up your winter plants. Make sure that you choose appropriate cold-weather plants to grow.
Creating a Beginner's Flower Garden
Starting a flower garden is easy. Make sure you have the right spot chosen out to grow your flowers. Choose the flowers that will be easy to grow in your particular area and soil. Prepare the soil and plant the flower. Remember not to water too much or the flowers will not grow very well.
Deck Flower Boxes
Whether you live in the city and only have a small balcony, or live in the suburbs and have an even larger deck, you can't really go wrong with some flower boxes. However, when choosing you r deck flower boxes there are a few things you may want to keep in mind, such as these guidelines.
Drying Your Own Fresh Flowers
Drying your own fresh flowers is a perfect way to help preserve memories. The trick is to get it done the right way, to avoid creating a big mess. Luckily, all you need to do is follow these simple directions.
Easter Flowers
In large part, Easter flowers are pretty much a matter of local tradition. That being said, there are four different flowers that have a long-standing association with Easter. Knowing a little bit about what these flowers are like can go a long way to helping you grow some yourself.
Edible Flowers
When choosing flowers to serve with your meal, make certain that they are not of the poisonous variety. Remember that flowers from a florist are inappropriate as edible flowers because of the chemicals and toxic products used in their production. Instead, choose flowers form your own garden or from a certified organic supplier.
Flower Arrangements
Many people think there is some secret to arranging flowers like the pros. In all actuality though, flower arrangements are a relatively easy thing to create. All you need is a little material, some imagination, and a little practice. Use these guidelines to help you out.
Flowers for the Window Box
A window box is simply another way to become creative with container gardening. Choose flowers for your window boxes based upon the amount of sunlight they will receive, the window box size, and the colors you'd like to use to enhance the outside of your home.
Garden Flowers
A beautiful garden full of flowers is the dream of many home gardeners. After all, who wouldn't want to have a garden full of beautiful blooming flowers, something that could be easily seen on the cover of a magazine somewhere? Before you can achieve that dream, though, you need to learn about one of the most basic items for this type of garden—the garden flowers.
Growing a Flowering Fence
Are you tired of using the same old style of fencing for your yard? If so, why not use something called a flowering fence? These types of fences are beautiful, and can add a touch of the unique to your home. Best of all, growing a flowering fence is surprisingly easy.
Growing Chamomile
Chamomile is one of those truly wonderful, beautiful, and multipurpose plants. Not only does it smell great, taste great as a tea, but it also looks great. If you are interested in adding a little something extra to your garden, or would like to possibly start making your own tea, then you really ought to think of growing chamomile.
Growing Flowers in the Shade
Shade flowers provide the gardener with an opportunity to be creative in darker spots of their landscape. Choose flowers that thrive in shade, appear year after year, plant them correctly, and the shady spots of your yard will burst with color.
Growing Lavender
Lavender has long been a world wide favorite, and is often known for its fragrance and color. If you would like to add some beautiful color, and enchanting odors to your next flower garden, then you can do it by growing lavender. Here's how.
Growing Prize-Winning Flowers
The most important thing about growing prize-winning flowers is making sure that your flowers get the right nutrients. Make sure to test your soil in the areas where you want to grow flowers. If your soil doesn't have all of the nutrients your flowers need, you can supplement it with the right kind of fertilizer.
Growing Tea at Home
If you are tea enthusiast, and love to do some gardening, then why not spend a little time growing some tea. It's not only surprisingly easy, it will also allow you to create your own special tea blends.
How Can You Encourage Flower Propagation?
If you have noticed that your flowers are not thriving as well as you would like you may want to look into propagation. But how can you encourage flower propagation? It's not all that difficult if you utilize one of these methods.
How to Plant Seeds
Planting seeds has got to be one of the most basic tasks possible in gardening, and yet so many people still don't know how to do it. This could be due to the fact that they think it is a simple task, or that they are simply not taking enough time to do it properly. Whatever the reason though, it is always a good idea to refresh our skills from time to time. Keep reading if you would like to learn how to plant seeds.
Landscaping with Bedding Plants
Landscaping with bedding plants is one of the most traditional methods for landscaping in the United States. The reason for this is that bedding plants are usually very easy to take care of, when the proper preparations are taken. Here are a few precautions and tricks that you can use to make your bedding plant landscaping as successful as possible.
Lilac Care
The lilac bush is the answer when looking for a bush that requires low maintenance and still has many other great qualities. Find out what else this great bush can do and how to care for your lilac bush.
Meanings of Flowers
If you've ever received flowers, you realize how much the gift can mean. But are you aware that all flowers have specific meaning? In other words, certain varieties mean different things. So, the next time you receive flowers, understand the meaning the giver is trying to convey.
Planting a Fall Hanging Basket
Whether you only have a little space, or are looking for an accent piece, planting a fall hanging basket can be a great option for gardening. Luckily it's not all that difficult a task to do. Follow these simple guidelines to ensure you do a great job.
Planting a Winter Hanging Basket
Just because winter is here doesn't mean that you have to go through gardening withdrawals. Planting a winter hanging basket is a perfect way to keep gardening through the winter months, at least on a limited scale. Just keep these guidelines in mind.
Planting Clematis
Clematis can be intimating when it comes to planting and growing. It doesn't have to be this way. Learn how to have healthy and beautiful clematis looking their best. Read on for more information.
Planting Peonies
Peonies are one of the longest-lived perennial plants that you will encounter. They can last literally a life time as well as the life time of your grandchildren. You just need to know how to care for them. Find out how easy planting peonies can be in this article.
Planting Poinsettias
Poinsettias have long been a symbol of the Holidays. In fact, it seems like we only really ever see them during this festive time of the year. But where do they come from, and when is the best time to plant them? Planting poinsettias can be a relatively simple process, as long as you take the correct steps.
Poppy Gardens
If you have ever seen the poppy flower, then you know just how beautiful these little plants can be. What's even more impressive is that the poppy is an extremely hardy plant that doesn't need specific attention to ensure that it thrives. In fact, if you are looking for a plant to add color and variety to your easy care garden, then you can't really go wrong with the poppy.
Preparing Hanging Flower Pots
Hanging flower pots are simply another version of container gardening all dressed up. Used mainly for aesthetics, hanging flower pots can add visual interest and texture to your back deck, front porch, and inside of your home.
Repotting Flowers
When your flowers outgrow their pots, it is time to repot them. There are several signs that you plant needs a new pot, especially if it seems like it's not getting enough water even though you're watering it. You'll need to repot your plant in a pot that is two to three inches bigger in diameter than the current pot, and you'll want to add soil all around the current roots. Be sure to water your plant well once it is repotted.
Restoring Lilacs
Lilacs are plants that produce gorgeous flowers in the spring. If your lilac bush is looking a little tired, use these methods to help perk it up again.
Sprucing Up the Flower Garden
Sprucing up your flower garden not only makes it look better, it can promote new flower growth. And you can also use garden accents and lighting, along with decorative mulch, to reinvigorate your flower garden to give it a fresh look.
Successfully Planting Flower Bulbs
You can take your chances and buy flower bulbs willy nilly, place them into the ground haphazardly, and simply wait to see what emerges during the growing season. In order to successfully plant flower bulbs, however, you need to determine what you want to bloom, when you want it to bloom, and take care to plant your bulbs correctly.
Taking Care of Tulips
Of all flowers, bulb flowers are the easiest to care for, and especially tulips. Remember to plant them in a sunny location, don't overwater them after planting, and then deadhead them when the blooms start to fade.
The Viking Bellflower
The Viking bellflower, also known as the Campanula Viking, is a relatively new hybrid perennial that you can now add to your garden. However, before you go out and purchase a few, make sure that you know how to take care of it properly.
Thinning Your Garden
Thinning is the gardener's way of helping nature with the survival of the fittest process. By removing small, deformed, or overcrowded plants you will help the healthier and vigorous ones survive and thrive. This is especially true in vegetable gardens.
Tips for Taking Cuttings
Plant cutting is a great way to get new plants out of your old ones. Hang your cuttings in a bag of soil to protect them from the elements. When making your bag of soil, mix peat and perlite and moisten them to make a good rooting mixture for your plants.
Understanding Your Birth Flower
Whether you are looking to add a little extra zip to your garden, or to a gift you are giving someone, then understating birth flowers is a great way to go. Understanding your birth flower isn't hard, but it can be quite entertaining.
What are Cuttings?
If you're wanting more plants in your house or garden, but don't want to spend the money then you might want to look into cuttings. By just using a piece of an existing plant, you can easily and cheaply grow a whole new one. But what are cuttings? Read more to find out the answer.
When to Use Cuttings
Plant cuttings are useful in many situations. You can use them for everything from saving money to trying to save a diseased plant. Read this article to find out not only what situations can use plant cuttings but what time of the year is best to use them as well.
Working with Bulbs and Bulbils
Instead of spending tons of money on new bulbs to replenish your garden every year, you can harvest what you need to grow new bulbs from the plants you have now. Pluck the bulbils from the stems of your plants and plant them according to instructions specific to each plant. Bulbils will take a long time to flower, but they are invaluable for a long-term garden.