Tools
Garden tools include more than a spade and shovel. If you need to do something in your garden, chances are that a tool has been designed to make your job easier. If you have a project in mind, knowing which tools are available is important and can save you countless hours of work and frustration.
This section of tips includes great articles about various garden tools. You'll find some great tips to help you choose a great lawn tractor and how to get your children involved in the garden with their own tools. Depending on the type of garden, your tools could also include planter liners, greenhouses, plastic bottles, and wooden planters. There are tips here to help you use all of these tools and more.
Tips, Tricks, and Answers
The following articles are available for the 'Tools' topic. Click the article''s title (shown in bold) to see the associated article.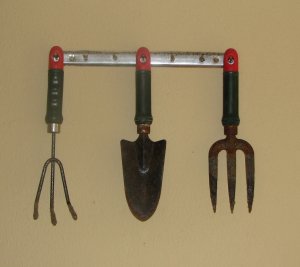 Basic Mowing Safety
Regardless of what type of lawn mower you have, if you don't understand basic mowing safety you can find yourself in a world of hurt. Do the safe thing for you and your family by learning how to operate the lawn mower safely to ensure that you know what you are doing.
Building a Greenhouse
Whether you are an avid home gardener, or you simply want to create more storage space, building a greenhouse is a fantastic option that you can't really overlook. Here are a few guidelines that you should keep in mind before you begin this project.
Building Your Own Greenhouse
Building your own greenhouse can be as easy or as complicated as you make it. The key to building your own greenhouse is to plan a design that will fit into your budget, while providing an ultimate growing environment for your plants.
Choosing the Right Shape for Your Greenhouse
Installing a greenhouse can be a great project for any gardener, and can be a wonderful addition to any landscaping design. Choosing the right shape for your greenhouse is an important step in that installation. Here are a few guidelines that you can use to ensure you get the right shape for your new greenhouse.
Choosing the Right Size for Your Greenhouse
Have you ever noticed how difficult choosing the right size for your greenhouse can be? Use these guidelines to help you determine what the proper size for your greenhouse should be.
Commercial Planters
Many people think that planters are only good for starting a plant off. However, planters can play a larger role than that in your landscaping. After all, if places such as Disneyland and other large resorts can use commercial planters to great affect, why can't you? Here's how.
Controlling the Temperature in Your Greenhouse
If there is one thing about a greenhouse that can cause frustration for most gardeners is the temperature. Proper precautions need to be taken, or you can easily find your greenhouse is more of a sauna than anything else. Luckily, there are a few things you can do to begin controlling the temperature in your greenhouse.
Copper Planter
Do you want to add interest to your home or yard? Using a copper planter is a way to display plants and add some style at the same time.
Cultivation Tools
Cultivation can be one of the most difficult, tiring, and time consuming aspects of gardening. That is, it can be if you don't know the right tools to use. There are more cultivation tools available than simply a few shovels. Use this little guide to learn a little bit more about these kinds of tools, and how you can use them around the garden.
Deck Planters
Having a deck attached to your house, condo, or apartment is great if you like to spend time outside. You may want to decorate this space by using deck planters to add beauty to the area.
Do Grow Lights Really Work?
If you are looking at creating an indoor nursery, or are simply thinking of starting some plants off in your home, then chances are you have thought of using grow lights. The question though is do grow lights really work? If you want to know the answer, keep reading.
Don't Waste Money on Expensive Bonsai Tools
Bonsai trees can be fun to grow, but with the cost of trimming tools, growing bonsais can be an expensive hobby. Instead of spending lots of money on professional bonsai tree tools, pick up a manicure set at your local drug store. The manicure tools will work nicely for any bonsai hobbyist.
Equipping a Gardening Shed
Whether you already have a gardening shed, or you are planning on building one, eventually you will need to put some equipment into it. Equipping a gardening shed may seem like a fairly easy task, the truth is much different. Follow these guidelines to ensure that you get the job done properly.
Garden Tool Kit Necessities
If you are really interested in learning how to make your garden a success, then it is imperative that you have the right tools. Here is a list of the most common tools that you need to have in order to get your garden going the right way.
Gardening Gifts
Whether the holidays or birthdays are approaching, if you have a gardener in your circle of friends and family, you'll need to get them a gift. What better gift can you give a gardener than something that they can use? Deciding on some gardening gifts is a fairly easy task, as long as you keep a few simple guidelines in mind.
Gardening Tools for Children
Gardening is a fun activity that can be done with the whole family. Purchase gardening tools made for children so your children can participate with you. Make sure to get gardening tools that are safe and age appropriate. If your child cannot use metal tools, get plastic toys instead so your child can feel involved in the gardening.
Greenhouse Gardening
Greenhouse gardening can be a great method for producing plants and flowers year round. However, what do you need to consider for having a successful greenhouse garden? You might be surprised at what it actually takes to make greenhouse gardening a success.
How to Change Your Lawn Mower Blades
Learning how to change your lawn mower blades is a relatively simple and effective method for saving money and taking care of your equipment at the same time. It's not all that difficult of a project, and should only take you about an hour to do the job.
Hydroponic Gardening
An alternate method to soil gardening, and used by ancient peoples, hydroponic gardening is sometimes preferred over conventional soil gardening. Because plants spend their energy growing instead of searching for nutrients to grow, hydroponic gardening yields greater produce in a shorter amount of time.
Keeping Your Shed Clutter Free
Garden sheds can be one of the greatest helps to anyone who is interested in doing a little bit of yard work. However, garden sheds share the same kind of problem that hits the garage—they can easily become a chaotic mess. Good thing keeping your shed clutter free doesn't have to be all that difficult a task, as long as you follow these simple guidelines.
Outdoor Planters
You can add a touch of beauty and class to your home, garden, or deck with the use of outdoor planters. You can use these planters to grow just about anything you can imagine.
Planter Liners
When you are looking to do a planter gardening, don't forget to grab the planter liners. Planter liners are a great tool for raised bed and indoor gardening that many people don't even think about. Here are a few things that you need to know in order to pick the best kind of planter liners for your indoor garden.
Proper Pruning Tools
Pruning is an important part of taking care of your trees, flowers, shrubs, and general landscape. However, it is next to impossible to properly prune if you are not using the proper pruning tools. Well now you can be sure that you are properly equipped by using and following this simple list of tools.
Protect Young Plants from Frost with Plastic Bottles
Young plants need protection, or they can be killed with as little as some late frost. If you want to protect the new growth in your garden, simply cut the bottoms off of clear two-liter bottles to create individual covers for your plants. Stick the covers over the plants with the cap removed and the bottle will keep the heat from the sun in while letting in enough air for the plant to thrive.
Pruning Tools
Pruning is an important part of gardening and landscaping, and as such needs to have the proper tools. Without the proper pruning tools, you not only can't really do the job, but you can also end up doing some serious damage to those plants that you do try to prune. Use this list to ensure that you have the proper pruning tools for any job that comes along.
Selecting a Lawn Tractor
Buying a lawn tractor can be a large investment, so make sure that you know what you're buying before you lay out that kind of cash. Consider ease of use, comfort, how wide the turning circle, and the obstacles you have to dodge while mowing And, at the very least, make sure that you get a good warranty for the model you are considering.
Steel Planters
Planters allow you to enjoy the beauty of flowers and plants whether you have a yard or not. Steel planters are a stylish way to keep plants both indoors and outdoors.
Storing Garden Hoses
Most people take care to store their garden hose for the winter, but most of us do not follow the necessary steps to store and care for hose during the growing season. Here are some good ideas for storing your garden hose in summer as well as winter.
Storing Garden Tools
Garden tools can cost a lot of money if you find that you have to replace them each season because you forgot where you put them last season. Properly storing and maintaining garden tools is not only cost-effective, it keeps them in working condition for the next time you need to use them.
Using a Garden Wagon or Wheelbarrow
Whether you purchase a metal, wood, or plastic wheelbarrow or garden wagon, you'll find it an invaluable gardening tool. Garden wagons and wheelbarrows are also used as lawn and garden accents. Be creative when using one as a planter and, when using it as a tool, maintain your wheelbarrow and it will provide years of service.
Using Planter Liners
A planter allows you to add the beauty of plants almost anywhere around your home. When setting up a planter, be certain you use the proper materials, such as plant liners, to help your setup last a long time.
What is a Broadcast Spreader?
If you have a lawn and would like to help make it the best it could possibly be you need to make sure that you have all the proper tools. One of the most important tools that you can have is called a broadcast spreader. But what is a broadcast spreader you may ask? Keep reading to find out.
Why Does the Shape of Greenhouses Matter?
There are so many different shapes and styles of greenhouses that it is only makes you wonder why. Does the shape of greenhouses really matter? The answer is both amazingly simple, and somewhat confusing. Here is the reason why.
Window Planters
Window planters are a great way to embellish both the exterior and interior of your home. They help to bring more natural beauty and color to wherever they are placed and are an easy addition to any home.
Wood Planters
Whether you want to decorate your back deck with tall potted palms, or adorn a window box with tiny pansies, wood planters are a good choice for housing your plants.