Hand Tools
At first glance, the garden tools in your local home improvement store might seem insignificant. However, the value of having the right garden hand tools will be quickly determined as you begin to plant your garden. Having the right tools, such as a spade and shovel, can make the difference in your gardening experience.
The tips in this section will help you find the right tools including a rake and hedge trimmer. There is also a review of a handy pruner and tips on how to store your tools so they last as long as possible.
Tips, Tricks, and Answers
The following articles are available for the 'Hand Tools' topic. Click the article''s title (shown in bold) to see the associated article.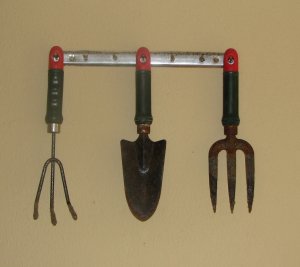 A Handy Pruner for Your Toolshed
When working with trees, bushes, and brush, the right pruner can make quick work of the tasks you need to do. The Corona BP3225 two-handed pruner, reviewed in this article, is a great addition to any gardener's collection of tools.
Choosing the Right Rake
Choosing the right rake for a lawn or garden task will help you complete the chore more efficiently and quickly. There are several kinds of rakes from which to choose. Visit your local home improvement or hardware store to find the right rake for the job.
One Heck of a Hedge Trimmer
Keeping trees and bushes trimmed is a big part of keeping a healthy, attractive yard. A good set of hedge trimmers can make that job a lot easier. See how our reviewer's yard maintenance efforts turned out with Corona's Forged Aluminum Hedge Trimmers.
Storing Your Gardening Tools
If you don't have a shed or a garage to store your tools, consider using the space under your back deck or the crawl space under your house. No matter what space you use to store your garden tools, make sure that it's organized so you can find what you need, when you need it.
Tough Loppers for the Home Gardener
For pruning or chopping small branches on everything from a bush to a mighty oak, you need loppers. For tough jobs and easy, check out our reviewer's experience with Corona's Compound Action Bypass Loppers.