Tomatoes
The classic vegetable garden plant, the tomato plant, is easy to grow and can yield a number of delicious tomatoes. The traditional method for growing tomatoes requires some space and some vegetable cages that allow the plants to grow straight and tall. Another option is to grow the plants upside down. Regardless of the method, there are some important things to know about tomatoes before you plant them.
This section of tips will help you grow beautiful tomatoes and help you recognize problems and diseases that can strike your tomato garden. There are many varieties of this delicious food and you'll find information here that will help you decide which one is right for you.
Tips, Tricks, and Answers
The following articles are available for the 'Tomatoes' topic. Click the article''s title (shown in bold) to see the associated article.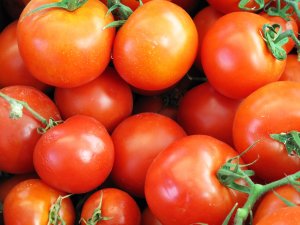 Common Tomato Ailments
Tomatoes are a great plant that can be loads of fun to grow. However, there is just one draw back to them. That drawback is that tomato plants often seem to be overly susceptible to problems. If you are planning on growing some tomatoes this season, then it only makes sense to become familiar with some of the common tomato ailments.
Common Tomato Diseases
Taking the time to plant your tomato plants with adequate spacing, well-drained garden beds, and appropriate fungicides will go a long way to prevent common tomato diseases from destroying your fruit. This article provides information about common tomato diseases and how to recognize their symptoms.
Cracked Tomatoes
One of the common problems that seem to plague gardeners is cracked tomatoes. What causes this problem? Is there anything that can be done to prevent this from happening? Are cracked tomatoes even edible? Well, if you have ever wondered about these questions, then your answer is here.
Growing Award Winning Tomatoes
If you are interested in having some great vegetables in your garden, why not go all out? Growing award winning tomatoes isn't all that difficult as long as you follow a few simple steps.
Growing Great Tomatoes
Tomatoes are a great treat that can be grown in your garden. Buy the plants from your local nursery and plant them after the weather is above 50 degrees Fahrenheit at night. Make sure the tomatoes have plenty of sun and water. They can survive almost any kind of soil. Grow the tomatoes up and pluck them off when it is they are nice and ripe.
Growing Tomatoes Out of Season
Growing tomatoes out of season isn't all that difficult if you take the proper steps. Surprisingly, all you really need is a fairly sunny window and a few items that you probably already have around the home. Well, that, and a little bit of patience.
Planting Tomatoes
Do you want to grow some tomatoes, but are not sure what to do? Here are some easy tips that you can use to help grow some fantastic tomatoes.
Staking Your Tomato Plants
To provide a better crop, many gardeners like to stake their tomatoes. Staking tomato plants pulls the fruit off of the ground, making them easier to harvest, but also guarding them against rot and insect damage. Here are some guidelines to follow to stake your tomato plants and improve your tomato yield.
Tomato Garden
Tomatoes are a wonderful plant and addition to just about any garden. However, there are times when you may wish to dedicate your garden to only growing the tomato. What do you need to know in order to plant the best possible tomato garden? Keep reading to find out.
Understanding Types of Tomatoes
Most people agree that home-grown varieties of tomatoes taste better than greenhouse assortments. Do you know why they taste better? This article will help you understand the answer to that question, and may help you determine what type of tomato is best to grow for your particular needs and circumstance.